Temperature Data logger,USB Datalogger Recorder 3000 points Disposable(PDF12H1)
$16.00$6.99
Product Code: PDF12H1
Manufacturer: PCsensor
Stock Level: 964
PDF12H1   Specification
We are the factory direct sales,can be ordered in large quantities, We have a big price  advantage,If you are interested in our item,welcome to contact with us.  
Salesman:Alina  (Email:sales@pcsensor.cn)
Item Description
This disposable mini USB temperature data logger is great for monitoring and recording temperature of cold chain logistics or other fields. It is easy to operate, one button to start data logging.
Features:
This temperature data logger is designed for single use.
It is great for monitoring and recording the temperature of cold chain logistics for temperature sensitive goods.
With alarm function, visual alarm when temperature exceeds the limit.
One button to start data logging,plug into PC to stop data logging
Wide measuring range: -40°C~70°C.
USB based, easy to connect with a computer to get PDF report directly.
Specifications:
Use Type: Single Use
Measuring Range: -40℃ ~ +70℃ Or -40~158℉
Accuracy: ±2°C
Resolution: 0.1°C
Data Storage Capacity: 3000
Start Mode: Press Button
Stop Mode: Plug into PC or When data full
Battery: CR2032 Cell Battery
Battery life: 1 years
Data storage time: >3 years (theoretical storage time: >20 years)
Item Size: 74*32*5mm
Item Weight: 11g
Quiescent operating current: < 5 uA
Data recording and storage current: 1~5 mA
Operating voltage: DC 3V
Average power: 0.02 mW
Device support: USB-2.0 communication mode
Item  features:
1.Can be plugged into USB port directly and read graphic on PC
2.Small size, easy to carry
3.Factory direct selling, low cost, good stability
4.After data record ending, even if the battery is removed, it can be read and printed data
5.LED indicator reflects the alarm status in time
6.Access to data without the need for software
7.Automatically record the temperature data generated in the PDF format report, plug in the computer to obtain, simple and quick
8.dust-free,dampproof and shockproof
Item Pictures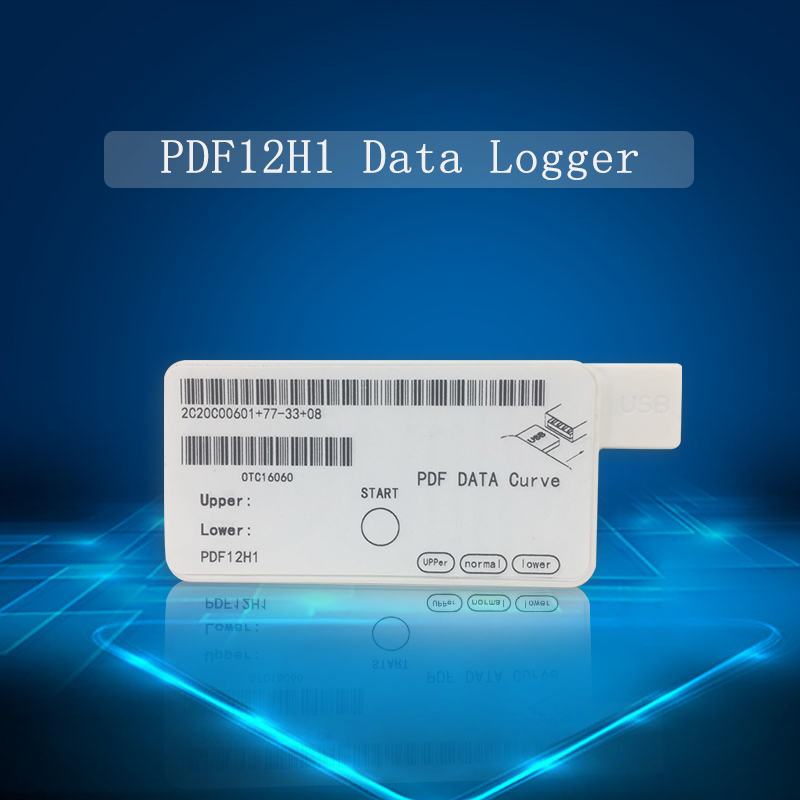 Report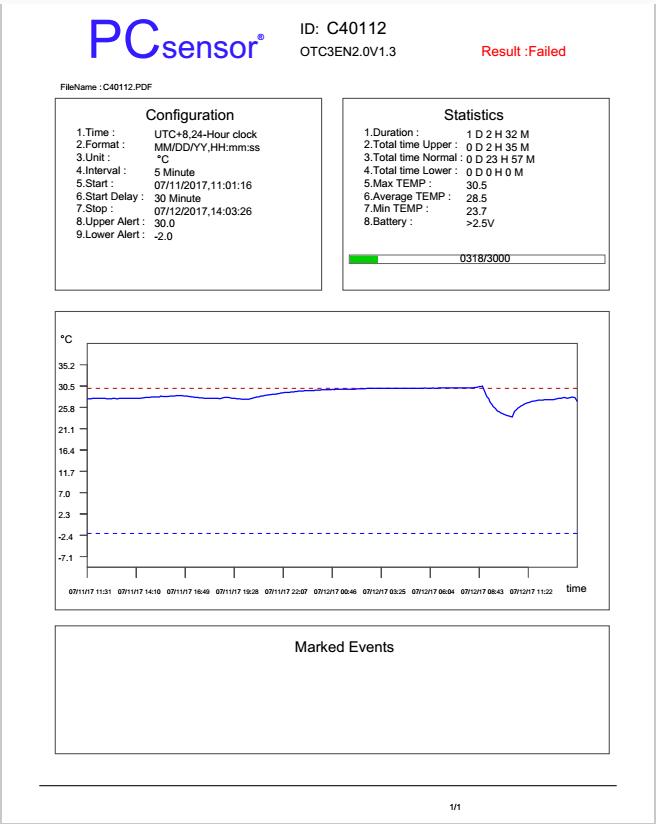 About curve:
red dotted lines indicate the temperature is on upper limit alarm value
blue dotted lines indicate the temperature is on lower limit alarm value
temperature between red and blue is normal
Operation Instruction
Start Record:Hold down button about 6 seconds until the green indicator flashes quickly, that means data logger has started.
(after starting the device, flash once in 3 seconds, the device starts recording temperature data after a  delay time)
Recording Logger:Indicator flashes once per 3 seconds that means in a normal logging status.
Data Read:Plug PDF12H1 into the PC USB port, there will be a U disk drive letter appeared in the bottom right corner of the computer, open the letter, open the PDF document, you can read, analysis and save the report ;
 (if the product is from the low temperature to room temperature, please wait for 5 minutes, then take the product out from waterproof bag,then plug it into PC)
End of Record:Data logger will stop automatically after read data.
Red indicator will be long on bright when press start button that means the data logger has been used,the logging recorded data will be save forever
Different temperature status indicators are as follows
| | | |
| --- | --- | --- |
| No | status | LED |
| 1 | Upper alarm | Red light flash |
| 2 | Normal temperature | Green light flash |
| 3 | Lower alarm | Blue light flash |
Note1:
-Press and hold the button until LED turns green,then starting record.
-If LED do not turns green after pressing and holding the button for a long time, please do not use this data logger.
-This is a single use data logger, so make sure it's correct to start.
-When recording, one of the LEDs will flash once every 3sec.
-After plug into PC,record ending
Note2:After the device starts recording temperature data, if the data is higher than the Upper Alert or below than Lower Alert, red or blue lights will flash to alarm , the green light will not flash again;
if Upper Alert and Lower Alert all happen, red and blue lights flashing always with memory function
Packing List
Item name

Specifications

Number

PDF12H1 Temperature Record

 74*32*5mm

1

Operating instructions card

 

1

Waterproof transparent bag

100*54* * 5mm

 

1
Unit: ℃  /  ℉   ;   Date format:MM/DD/YY 
Time:every country have a different time zone,Chinese time is UTC+8
Interval: how long to record data for once
Start Delay: after starting device,wait for some time then begin record
Upper Alert:it will alarm if temperature higher than upper temperature
Lower Alert:it will alarm if temperature below than lower temperature
You need to note for salesman about  the follow parameter
| | |
| --- | --- |
| Time | UTC: |
| Date format |   |
| Unit |   |
| Interval |   |
| Start Delay |   |
| Upper Alert |   |
| Lower Alert |   |
---
Customer Reviews
This product hasn't been reviewed yet.