1 wire adapter,1Wire Thermometer,replace DS9097 DS9490
$35.99$19.50
Product Code: USB9097
Manufacturer: PCsensor
Stock Level: 99717
1 wire adapter
1.Description :
USB9097 is Rding Tech's 1 wire adapter. It fully can replace DS9097, DS9490 of MAXIM (http://www.maxim-ic.com/ )
The main differences of them is:
(1) USB9097 connects to computer through USB port; DS9490 connects to computer through serial port.
(2)USB9097 connects to sensors through 3.5 mm Audio cables; it can build hundreds of miniLAN network. Very suit forNon-professionals DIY.
At present, more and more Maxim's 1wire of products have already appeared in our life. You can connect 1 wire into your computer through it and easy to get the data from the computer .such as: get temperature of DS18b20 or datas of ibutton products. 
Adopt DS2480B+USB2UART IC, more detailed product performance; please refer to MAXIM DS2480B datasheet.
2. Product photos :
                                                      Picture 1 USB9097
(NOTE: You can use Third-line communication  or noly use DATA and GND.)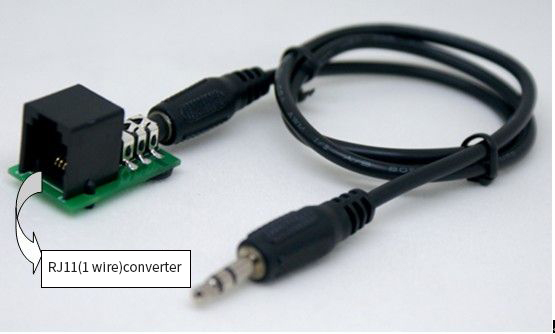 Picture 2 converter
3. Packing list
Weight of USB9097 : 90g
3. There are two types of 18b20 probe can be directly connect to 1 wire adapter. Such as:
(1)  Dx sensor
Temperature range of Soft line probe: 55~+125°C;
(2)H200 sensor
Temperature range of plug-in handle Probe: -55~+125°C ;
(3) can connect with our 1wire relay.
(4) can connect with our 1WAD.
Note: If you want to download the latest software, please click here: http://software.pcsensor.com/pc_en.html
---
Customer Reviews
This product hasn't been reviewed yet.